Can Jesus Still Use Me After All I've Done?
God can make all things good in our lives — even when we mess up.
Written by
Ruth
on 26/05/2022
---
For I consider the sufferings of this present time are not worth comparing with the glory that is to be revealed to us.
Mistakes
Have you ever felt that life just is not making sense? Jesus tells us what our life in Him should be, but no matter how hard we try, we make mistakes. We sin!  I've felt that way many times in my life with Jesus. Sometimes, I've ried to "fix" my life so it looks  more like what I read in the Bible. But, I just made it worse. Then I discovered I was the one who had messed it up by trying to find my own answers. How can my life ever become what Jesus wants me to be? He says in Romans 8:28 that He works all things together for good to those who belong to Him. But sometimes there is no way to "undo" what has been done! Then I cry with Paul in Romans 7:24 — "wretched person that I am! Who will deliver me from this body of death?"
Flaws of Life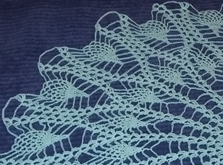 Recently, I began a crochet project. If you don't know what crochet is, it's a type of creative sewing done by using a small hook to interlock loops of thread making something that is intended to be beautiful. My project is an old pattern for a table covering. I started the project, but before long, my project was no longer a circle. I checked my instructions, and I counted the number and type of stitches I'd made. Everything appeared to be correct – but what I saw was not a circle. 
I kept working, paying close attention to the instructions, and the result was still not round.  It was also no longer flat. Parts of it curled down while other parts bunched together. 
Now, I would be able to undo the work by simply pulling out rows of thread. Life, however, doesn't have a reset button, and we can't go back to change what we have done in the past. What can we do?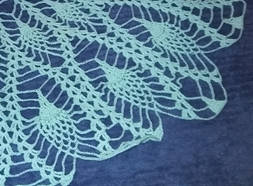 Romans 7:25 says, "Thanks be to God through Jesus Christ our Lord!" This is the answer to where we find deliverance from our body of death! Jesus gives us eternal life. This solves our future!
But what about the mistakes we have made in the past, things we cannot undo. Have I been unfaithful in my marriage? Have I cheated someone out of a job? Have I destroyed a life? If I stole something, I am able to give back what I took – like pulling out stitches in my crochet work. But life experiences and choices are rarely things that can be undone . If I told my friend a lie, and then my friend moves away, I cannot undo what I said and heal the hurt I caused. Sometimes in our lives, we have only one option for something we did wrong – we confess it to Jesus and ask Jesus to make right what we cannot change.
His Glory-Promise
Jesus promises what we will rarely understand. It is found in Romans 8:26-29 — "Likewise the Spirit helps us in our weakness. For we do not know what to pray for as we ought, but the Spirit Himself intercedes for us with groanings too deep for words. And He who searches hearts knows what is the mind of the Spirit, because the Spirit intercedes for the saints according to the will of God. And we know that for those who love God all things work together for good, for those who are called according to His purpose. For those whom He foreknew He also predestined to be conformed to the image of His Son, in order that He might be the firstborn among many brothers." 
Jesus understands our grief and sadness at not being perfect, so He will help us as much as we allow Him. The Spirit of God living in us prays for us! Since His prayers are always God's will, God always answers those prayers with a plan that will make everything beautiful. 
When I got to the end of the pattern, I realized that a flaw existed somewhere. That flaw made it impossible for me to create something perfect. I simply could not find the error and more work was needed to complete it.  So, I found a way to compensate for the flaws. While it is not according to the original pattern, it has become complete and beautiful, and one-of-a-kind simply because I, the creator, loved it enough to make it beautiful even with the flaws.
That is exactly what Jesus does with us – He takes the flaws in our lives, and He works into them extra little "stitches" that make certain the finished life will be beautiful and unique. He never gives up on us! 
---
Pray this week:
Lord Jesus, I submit my will to Yours, and ask You to make my life into a life that brings You glory and honor.
---
Would you like to study this book of Romans with a caring volunteer to learn how God transforms your life?